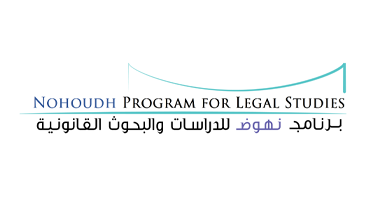 ( Ongoing Project )
Nohoudh Program for Legal Studies has been established as an independent and advanced research program that aims to keep abreast of the latest developments at the legal and intellectual levels and seeks to develop and activate them and determine the best ways to respond to and interact with them, With this vision, this program established to be a core in the region interested in legal development.
The program is becoming increasingly important especially that the region suffers from scarcity of legal research centers based on institutional foundations and the fact that the centers currently exist are mostly bureaucratic government institutions. This does not diminish their roles, but it means that they lack the resources and flexible policies required to achieve their objectives and ensure their continuity.
Recently with the increase and diversity of this Arab legislative activity, an urgent need emerged to develop and pay attention to legal studies. What supports the importance of such activity is what the Arab countries have recently witnessed of intense and rapid legislative and judicial developments (regardless of their content), represented in attempts to organize, update and complete the legislative structure to cover the various
social activities, political and economic activities.
Program's key areas and legal programs:
Legal institutions' development research program
Economic Analysis of the law project
Intra-studies program
Civil Rights and Freedoms Program
Arab Legislations Program
Translations Program